Tuesday 10th January 2017
Checkatrade EFL Trophy
at the One Call Stadium/Field Mill
Mansfield Town (0) 2
Pat Hoban 84, 90+2
Oldham Athletic (0) 0
Admission £10. Programme £1.50
Attendance 1343 (inc 149 away)
Mansfield Town
:
Kean, Bennett, Howkins (McGuire 70'), Peace, Benning, Collins, Baxendale, Clements (Thomas 83'), Hamilton, Hoban, Arquin (Green 83').
Unused subs - Shearer, Rose, Hurst, Hemmings.
Oldham Athletic
:
Ripley, Wilson, Clarke, Edmundson, Law, Croft (Mckay 61'), Fane, Green (Winchester 70'), Flynn (Banks 61'), McLaughlin, Osei.
Unused subs - Kettings, Dummigan, King, Glackin.
Prior to tonight, Oldham had only won one game in their previous eleven outings this season, and that came when they beat Walsall 3-1 in the previous round of the Checkatrade EFL Trophy.
The Latics are currently anchored to the foot of the table in League 1 of the SkyBet EFL... and they're currently operating under a transfer embargo too.
Steve Evans and an exercise bike.
The mind boggles.
The club previously known as Pine Villa FC (formed in 1895), were inaugural and founder members of the Premier League in 1991, but slipped from their lofty perch in 1994.
Folklore has it that when Mark Hughes equalised for Manchester United against Athletic, in the last minute of extra time in an evenly contested FA Cup Semi Final at Wembley Stadium, it was the catalyst for the club's imminent decline, and they have never really recovered from getting turned over 4-1 by the Red Devils in the replay at Maine Road.
Woo hoo! Tonight's programme folds out into a rather neat fixtures wall chart poster. I mean, just how cool is that, eh!?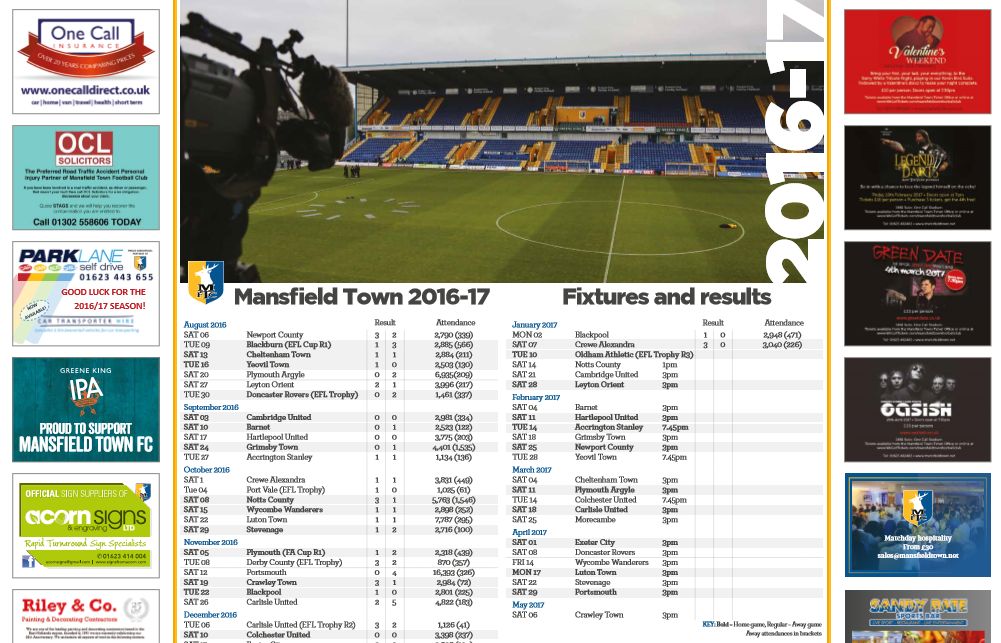 Victory against Oldham tonight, means that the Stags have picked up £80,000 in prize money from this much maligned competition so far this season, as they marched on to the quarter finals, with a fairly straight forward win against Steve Robinson's side.
The home side left it late, finally clinching victory with a brace of goals from Pat Hoban in the eight fourth minute and stoppage time, but it had never really looked as if the Latics were about to snatch a win at any point, unless they had been practicing taking penalties; because if the game had finished all square at full time, it would've gone straight to a shoot out, sans extra time.
If it's entertainment you were after, Field Mill was the place to be tonight, with the Match referee Darren Drysdale being of a particular vintage if you like watching clowns and their slap stick capers.
I'm damn sure that is one thing that the supporters of both teams would agree about too.
Oldham's volatile manager gets sent back to his own dug out,
while his opposite number from Mansfield look on placidly.
I was texted during the game: "How can you, as a true football supporter, even consider attending a game in the Checkatrade Trophy?" Alas, I was actually too busy actually watching a game involving the team that I support and work for, so I merely sent a
link
by way of a reply.
If you're one of those people who has seldom ever attended games in this competition, under it's various guises over the years... nobody is forcing you to attend, but don't you dare try using your apparent stance as a means of trying to claim the political high ground, over those who woulds prefer to watch their team as often as possible... and don't bother tapping me up for tickets if your team reaches the final at Wembley. Not a fuggin' hope pal!
In the ninetieth minute, Carl Winchester blazed a great chance wide from just inside the Stags penalty area and Ryan McClaughlin felt that he had been fouled as he squared up to shoot. Sodid I if truth be told, but Mr Drysdale was too busy performing the juggling and fire eating part of his act and didn't get a clear view as a consequence.
But either side of that encapsulated segment of the action, Pat Hoban scored for the home side.
His first came from a well worked move, which originated from the goal scorer passing along the left flank to CJ Hamilton , before assuming a position in the penalty area, Hamilton ghosted past his marker and delivered a cross to James Baxendale at the back stick, who hooked the ball across the face of the goal for Hoban to nod over the line from close range.
In stoppage time, Hoban timed his run perfectly to meet Baxendale's free kick and flicked the ball past Connor Ripley, to claim the victory for Mansfield.
Oldham hadn't been without a few decent chances themselves, with Edmundson and Pete Clarke, both heading wide... and Mal Benning had made a goal line clearance from Darius Osei just before the break..
However, Mansfield had the better of the game, albeit marginally at times and Chris Clements, Baxendale and Horan (again) had chances to put the game beyond the visitors lead.
Jake Kean had a couple of awkward moments to deal with, but ended the night with his third consecutive clean sheet against a side that he used to play on loan with, before the second biggest team in Sheffield let the Stags borrow him.
The draw for the quarter finals, takes place at 11.30am on Thursday morning and will be shown live on Sky Sports News.
The other sides to have reached the last eight, are: Cheltenham Town or Bradford City (playing 17th January), Coventry City, Luton Town, Oxford United, Swansea City U21, Wycombe Wanderers and Yeovil Town... hopefully the Stags will get a home draw then!
It would've been nice to visit Chesterfield one last time before they vanish off of the face of planet football forever, but the manager-less, directionless and pointless Spireites got battered 4-0 at Kenilworth Road tonight.
FT: Mansfield Town 2 v Oldham Athletic 0