Tuesday 20th December 2016
FA Cup 2nd Round Replay
Peterborough United (2) 2
Gwion Edwards 2, Paul Taylor 8
Notts County
(0) 0
Admission £12. Programme £2
Attendance 7,796 (inc. 475 from Notts)
Peterborough United
:
McGee, Smith, Hughes, Bostwick, Tafazolli, Edwards (sub Binnom-Williams 87min), Forrester, Taylor, (Inman 34) Coulthirst (Oduwa 73), Da Silva Lopes, Nichols.
Unused subs - Tyler, Almeida Santos, Nabi, Chettle.
Notts County
:
Loach, Tootle, Smith (Collins 72), Duffy, Hollis, Forte, Milsom, Thompson, Richards (Campbell 57), Stead (Oliver 67), Audel.
Unused subs - Collin, Dickinson, Laing, Hewitt.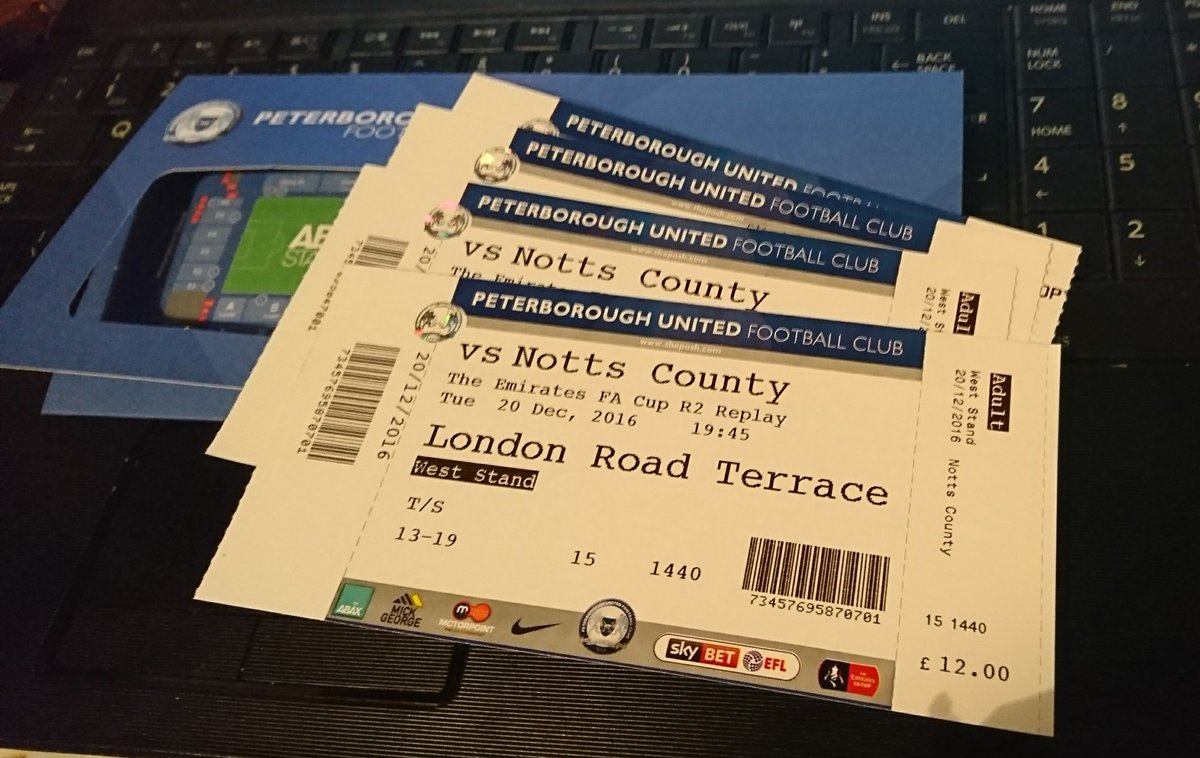 Premier League leaders Chelsea will now face Peterborough United in the Third Round of the FA Cup, after the original drawn game at Meadow Lane (click
HERE
for details), was settled in tonight's replay at London Road, or the ABAX Stadium, as it is now called.
Posh should already have been home and dry by the time that they dropped their guard, the last time these two sides met... and allowed the Magpies to claw back a two goal deficit.
Which is why we all ended up here tonight.
The A1, as per feckin' usual, provided us with a most unpleasant journey to Peterborough.
The return leg took us around 55 minutes; but we could have pushed the car from East Retford to London Road in the two hours and twenty five minutes it took us to get there.
At one point, somewhere in between Newark and Grantham, where we had edged forward approximately three miles in just over 40 minutes, I could quite happily have used my automobile as a battering ram to demolish the central reservation, in order to affect a U turn and abandon my trip, but it appeared to be heavily reinforced to prevent collapse. Lord help anybody who ever crashes into this particular 'safety feature' accidentally at any kind of speed.
We got to the ground about 7.15pm and though there was still plenty of room in an over-spill car park virtually across the road from the ground, we were too late to claim an optimum fast escape place right next to the exit, or to visit the nearby Cherry Tree public house for liquid refreshment and a bite to eat.
It's got personal between me and that 410 mile stretch of road, that runs from Edinburgh to London... and when I become Prime Minister (remember where you read this first), I will make it my number one priority to have it dynamited and bulldozed out of existence.
The game was barely ninety seconds old, when Michael Smith broke free down the right flank and delivered a pinpoint cross that Gwion Edwards met with his head and directed the ball into the bottom left hand corner of Scott Loach's net, to give Posh the lead from six yards out.
It looked as if a rout was on the cards after eight minutes, as Paul Taylor ran from just inside his own half, before unleashing a dipping shot over Loach from just over twenty yards, to double his sides lead, while several County players stood idly by.
United nearly scored again, when Richard Duffy made a mess of clearing the ball and miss kicked it to Taylor who forced Roach to sane.
Shaq Coulthirst fizzed a long range shot just wide after Tom Nichols had played the ball in front of him.
Yet, as we had seen in the game at Meadow Lane, once 'Boro' have imposed themselves on a game and deservedly set themselves on the way to victory, with a two goal cushion, they seen reluctant to cease the moment and kill the opposition off.
County were there for the taking now, but Peterborough, for whatever reason, had taken their foot off the gas, again.
Curtis Thompson, Jonathan Forte and Rob Milsom were making some headway down the right hand side of midfield for 'the Pies', with a calmed assurance of a team who were in no rush, nor unduly perturbed to be chasing the game already... after all, there was still plenty of time left yet.
Notts pushed forward again and Forte made himself a clear run on goal and let fly with a thumping shot from the edge of the area, that Luke McGee saved with his feet at the expense of a corner, which Milsom swung into the Posh six yard box, but Nichol was on hand to head the ball clear as Duffy looked odds on to have scored with as he nodded it towards the top left hand corner.
The home side lost Taylor in the thirty forth minute as he limped out of the action and was replaced by Brad Inman.
Jon Stead raced into the Posh area through the right channel, but was forced wide by McGee running from his line and over ran the ball before going to ground as the 'Boro' keep reached him. There wasn't any contact, it wasn't a foul, but the referee Mr England was hoodwinked into awarding a spot kick by Stead.
The vastly experienced, former England U21 striker knew exactly how to go down convincingly and Notts had the opportunity to half their deficit, but one must wonder how many of Stead's total of 121 career goals came from the penalty spot, because he didn't take this kick particularly well and McGee dropped to his right to meet the ball and make a save and Michael Bostwick was in quickly to block Stead's second bite of the cherry as the rebound fell nicely for him.
Karma's gonna getcha!
As the first half wound down, Ryan Tafazolli rose above everyone else in a crowded 'Pies' area from a right wing corner, but headed the ball wide... obviously he's lost his touch since he left the mighty Stags ;-)
HT: Posh 2 v Pies 0
It wasn't all that cold Missus W... you wimp!
Posh looked to start the second half as they had done the first and they very nearly did when Leo Da Silva Lopes created a great chance for Coulthirst, whose shot was blocked by Matt Tootle.
Alan Smith, the former England, Leeds United, Manchester United, Newcastle United and err.. MK Dons player, dropped a free kick to Stead's feet and as the Posh defence went AWOL, McGee was on hand to pull off a save.
The home side still looked intent to repeat the script from the last time these two sides met and allowed Forte far too much time on the ball as he lobbed McGee but saw his effort crash back off the crossbar.
Haydn Hollis didn't get enough power into his header back to Loach and almost allowed Nichols in to snatch what would have been a match clinching third goal for United.
The home side's captain Chris Forrester. picked out Tafazolli with his corner from out on the right, but the Magpies keeper turned the giant centre halves header round the post.
Forrester took the resulting flag kick and once more aimed for Tafazolli, but the ball ricocheted over the bar off of his chest.
Inman ghosted past Hollis as if he wasn't there and squared the ball to Coulthirst, whose half volley on the turn was held by Loach.
Tafazolli headed the ball wide again, from the edge of the area, from another Forrester corner.
Posh were finishing the game in the ascendancy, as the London Road choir sang them home with a few verses of "If you're all going to Chelsea clap your hands!"
Inman called out "I'm free!" on the right wing, picked up the ball and dashed past: Perfumery, stationary, and leather goods, wigs and haberdashery, kitchenware and food, before playing the ball to Bostwick, who hooked it to Nichols, but the Posh number twenty one couldn't quite keep his header on target.
Milsom was denied with just minutes remaining as McGee tipped the ball over the crossbar for a corner kick, which Milsom took himself and sent in an inviting ball to Tootle who headed wide.
And that was that!
FT: Peterborough United 2 v Notts County 0
You couldn't deny that Peterborough had just about shaded things over the duration of the match and deserved the result, with Taylor's goal alone being worthy of wining any game, but the fact that Luke McGee was so involved, with several great stops, tells the story of how County had made a game of it.
We were back on the A1 for 10PM, result! and for once it was clear all the way home, the only downside of the return leg of our sortie to the ABAX Stadium, was Bradley Walsh on the radio, playing a 'breathtaking' selection of his favourite Jazz and Swing records. Wowsers! What a load of rubbish. Remind me never to break into his house and steal his record collection.
A good night was had by all. Hi to Gaz, Simon and Mrs Patricia Butcher, who I watched the game in the company of on the London Road End.
Good luck to Posh at Stamford Bridge.