Saturday 24th September 2016
FA Vase 2nd Qualifying Round
at the Forest Town Arena
AFC Mansfield
(3) 4
Ryan Williams 3
Danny Naylor 36
Gary Bradshaw 43 pen
Oliver Fearon 82
Radclffe Olympic
(1) 2
Ryan Smith 2
Scott Litchfield 84
Admission £5. Programme £1.50. Attendance 49
AFC Mansfield:
Myles Wright, Matty Plummer (Brad Wilson 76), Mark Dudley, Grant Allott (Chris Timons 70), Josh Madin, Danny Naylor (Jordan Annable 73), Ryan Williams, Glyn Cotton (C), Ollie Fearon, Carl Bradshaw, Jimmy Ghaichem.
Unused Subs - Jon D'Laryea, Jason White.
Radcliffe Olympic:
Chris Bennett, Sam Adams, Jan Yeomans (Jake Morris 80), Liam Motson, Wes Spencer, Paul Durham (Joe Hegarty 72), Ryan Perkins (Wes Henry 62), Ian Marley, Scott Litchfield, Ryan Smith (C), Connor Moore
Unused subs - Jake Towers. Matt Fowler.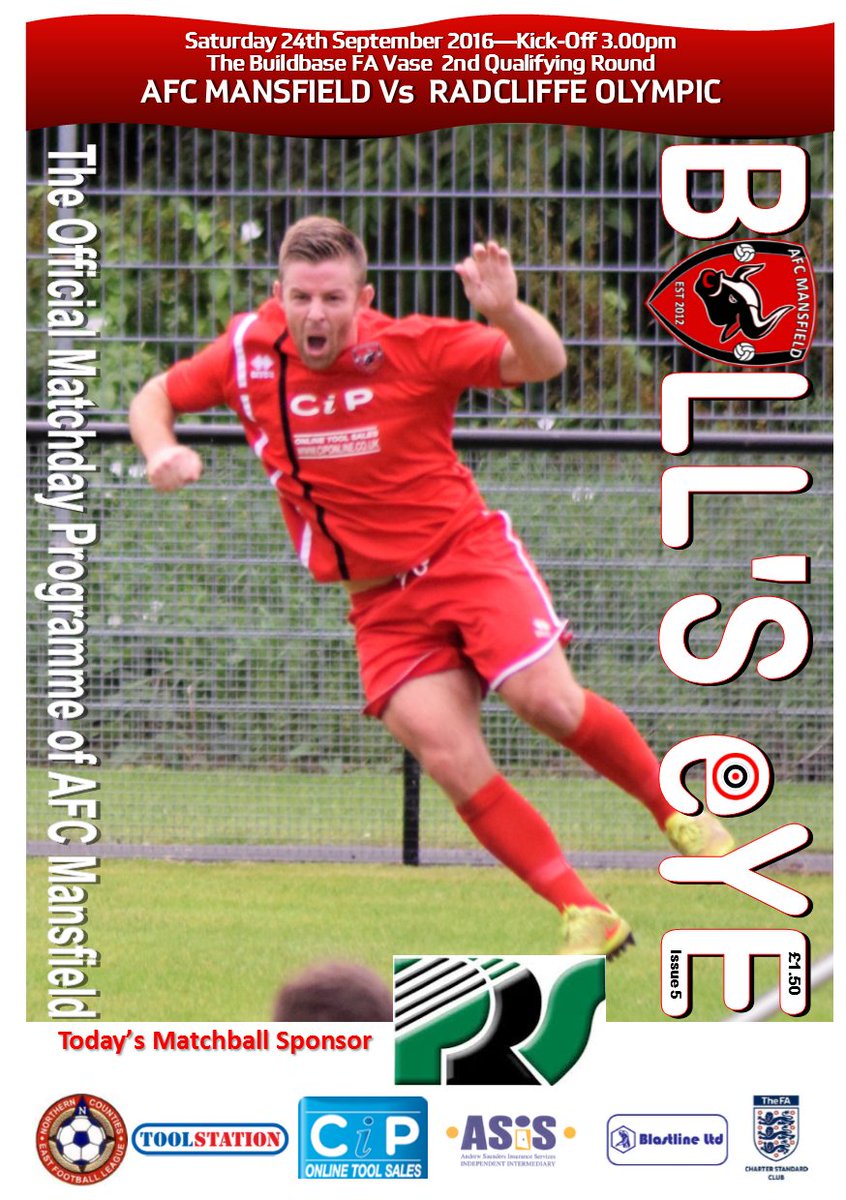 While AFC Mansfield are chugging along comfortably in mid table, with games in hand on just about every other team in the NCEL Premier Division, in what is their maiden season at such a level.
Radcliffe Olympic currently occupy third place in the EMCL, just one point behind Barrow Town and two adrift of Aylestone Park.
The visitors are based to the south east of Nottingham and have been plying their trade since 1876 and joined the ECML from the CMFL in 2009.
Once upon a time, a much younger, and far more naive and eager to explore yours truly, turned up in Radliffe-on-Trent one Saturday afternoon by public transport, because I had seen that Radcliffe Borough were at home. Imagine my surprise when I found out that there is another Radcliffe in that hinterland to the north of Manchester, between Prestwich, Bolton and Bury a mere 118 to the north west of where I was. I ended up going to see Nottingham Forest v Coventry City instead... that taught me to plan things more fastidiously and thoroughly in future.
The game kicked off with a strong wind blowing straight down the pitch in the general direction of Clipstone, where Sherwood Colliery of the CMFL South were beating their NCEL Premier Division hosts 3-1.
It would be fair to say that the blustery conditions played a significant part in the opening stages of the game and added a touch of comedy to the opening goal after two minutes, but I doubt if the Bulls rookie keeper, Myles Wright, who has played just ninety minutes with the Under 21 side this season prior to this afternoon, saw the funny side.
A long hopeful punt towards the home side's area looked to be covered by Wright, who'd taken up a position on the edge of his box, but the ball held up in the strong wind and bounced in front of him and instead of taking a comfortable catch, he was left flailing his arms in vain, as it cleared his desperate grasping reach and left the visitors captain with a clear root to goal, which he gratefully took advantage of and the EMCL side were ahead. Albeit very briefly.
Don't go too far, you'll be doing this again in two minutes.
Within a minute the Bulls were level, when Ryan Williams directed Jimmy Ghaichem's left wing cross past Chris Bennett at the back stick.
From the restart, Wright was caught out with another bouncing ball on the edge of his area, which Smith beat him to in the air and headed over the stranded keeper before continuing his run, but from all of twenty four imperial inches out from the goal line, he scuffed his shot and hit Mark Dudley instead of the target and had to settle for a corner.
To be fair to Wright, he didn't let the two calamities inside the first five minutes get to him and after a few encouraging words from Grant Allott and Mansfield's goalkeeping coach Graeme Rodger from the bench, he barely put a foot wrong again.
Ollie Fearon broke forward from a long, wind assisted clearance, but didn't trouble Gary Bradshaw as he lobbed the crossbar as well as the Radcliffe keeper. The Bulls striker ought to have done better moments later but Bennett got down well to his left to make a save.
Ghaichem broke into the left hand side of the visitors area, but shot straight at Bennett.
Fearon threatened the Olympic goal again, but as he ran onto Williams long pass he couldn't get any power behind his shot and another opening went begging.
Smith went to ground under a challenge in the Bulls area from Dudley, but in spite of some vociferous protestations from a gathering of Radcliffe players, the referee Colin Bailey was unmoved.
Bennett was in avtion again when he kept out a stinging shot from Danny Naylor, but as it transpired, the Bulls play maker was merely finding his range.
Ryan Perkins slipped by a challenge on the right and found Smith with his cross, but Josh Madin read the situation well and cleared the ball away. Ian Marley delivered the resulting corner into the six yard box, but the ref blew up for a foul on Wright.
Ironically, the Bulls keeper almost created a goal at the other end, when his long free kick held up in the wind and skimmed backwards off of Liam Motson's head as he attempted to head it away and fell just wide of the left hand upright.
Wright delivered another long clearance and showed that he had now mastered the conditions by picking out Fearon, who nudged the ball past Motson but couldn't quite keep his effort on target.
The Bulls had to defend two corners in quick succession, with Sam Adams heading the first one wide, while the second was dealt with by Allott.
Mansfield finally took the lead (it had been coming), after thirty six minutes, when Matty Plummer's long free kick was half cleared by Wes Spencer into the path of Danny Naylor, who unleashed an unstoppable shot past Bennett from twenty yards, into the left hand corner of the net.
Radcliffe closed ranks and were keen not to concede again before the break, but Perkins upended Bradshaw with a clumsy challenge inside the visitors area as he challenged for a left wing cross from Ghaichem, giving the referee no option but to blow up and point to the spot.
Bennett dived to his left as Bradshaw placed the ball to his right... and the Bulls had a two goal cushion to take into the break.
HT: 3-1
Bradshaw plants his spot kick to the keepers right hand side
The second half was much less eventful than the first, which was a blessed relief as my writers cramp reached excruciatingly painful levels.
Ryan Williams had obviously been singled out as a creative force by Radcliffe and Jan Yeomans spent the second forty five minutes behaving as if he was the diminutive ex Mansfield Town, Hull City, Wycombe Wanderers and that other team from over the M1's wide man's Siamese twin.
Perkins sprinted forward as Litchfield knocked the ball over the Bulls rigid line of defence, but Wright advanced quickly off of his line and snatched the ball away.
Ghaichem was covering every blade of grass across the final third, but when I pointd this out a critical local hissed "Aye, you're right, probably because he's lost and wandering about!"
It is always interesting to hear contrasting opinions of how different people view games, if nothing else.
The visitors were defending ruggedly as Mansfield sought another goal to kill the game off; Fearon flicked the ball on to Bradshaw but Motson got a foot in and cleared the danger... and when Williams picked out Cotton with a right wing corner, Spencer blocked his twenty five yard shot.
A mystery West Ham supporter won the 50/50 draw.
The visitors weren't ready to chuck in the towel just yet and Smith headed just wide of Wright's goal from Perkins dipping cross.
A great exchange of passes between Bradshaw and Williams on the right, pulled the Olympic defence all over the place, with Ghaichem making up the triangle to release Williams, it looked like game over as he crossed to Fearon, who narrowly failed to connect with a free header and the goal at his mercy.
A glut of substitutions broke up the rhythm of the game and chances were at a premium for a while, but Wright saved well from Adams close range header as the visitors counter attacked.
While Bradshaw knocked the ball wide from Fearon's knock at the other end.
Plummer and Cotton both created opportunities for each other in quick succession but couldn't quite find the final touch on either occasion,
Both teams scored again inside the final ten minutes, with Fearon heading a fourth for the Bulls after Ryan Williams had flicked a short cross up at a great height for him, after picking up a loose ball from Bradshaw's crashing shot, that had rebounded back into play off of the upright.
Radcliffe gabbed a goal back on 86 minutes, when he unleashed an unstoppable shot past Wright from a Jake Morris right wing cross.
Right at the death, Williams pushed a free kick down the right flank to Bradshaw who crossed into the visitors six yard box, to where Motson will have been relieved to see the ball go wide as he inadvertently got in the way of Bennett, preventing him from punching clear while deflecting the ball past the right hand upright.
FT: AFC Mansfield 4 v Radcliffe Olympic 2
The Bulls go into the draw for the next round of the FA Vase on Monday and they also face Stamford AFC at home in the FA Cup 3rd qualifying round next Saturday.
Does today's victory indicate that the NCEL is stronger than the EMCL?
Well that is open to conjecture, but in the only other Vase tie between clubs from the respective leagues today, Bottesford Town (who were promoted to the NCEL Premier Division along with Hemsworth Miners Welfare and AFC Mansfield last season) beat Dunkirk 4-1 away from home... just saying!