Wednesday 24th August 2016
Toolstation NCEL Division 1
Brigg Town
(1) 2
Paul Grimes 33
Lewis Dennison 55
Hallam
(0) 1
Jake Currie 47
Admission £6. Programme £1.50. Attendance 101
Note* Hallam FC don't actually have any players called Dale Dannent, Calum Gagales, Tom Nubush, Steve Brampton or Juke Cumie, but it would be quite funny if they did.
However, in the absence of the three aforementioned entries on tonight's team sheet: Dave Darwent, Calum Greaves, Tom Roebuck, Steve Brammer and Jake Currie all played instead.
Brigg Town and Hallam FC are amongst the oldest football clubs in the world, with the south Yorkshire side coming into existence in 1860, meaning they are only pre-dated by one club, their near neighbours Sheffield FC. The 'Zebras' can trace their own history back to 1864, which definitely makes them the oldest club in the sprawling county of Lincolnshire and possibly the fourth oldest club in the known universe, or indeed 'the world's oldest town football club' as the red lettering beneath their team line ups suggests, though the gentleman who is currently researching and working on the definitive history of Worksop Town FC might claim otherwise.
'The Countrymen' are widely expected to be among the clubs pushing for promotion this season, after reaching the play offs last term, while their hosts, who were relegated from the NCEL Premier Division in May, have made a promising start to their current campaign, with a 100% win record in Division 1, the League Cup and the FA Cup, where wins against Clipstone and Blaby & Whetstone Athletic have seen them through to the first qualifying round, where they face a trip to Kings Lynn Town on September 3rd. Brigg had scored in the last minute of all four of their games prior to tonight.
An evenly matched, open and entertaining game ensued, with both sides creating plenty of chances.
You can just about guarantee an attack minded approach to each and every game Ryan Hindley's side play in, but I think it would also be fair to say, that to that end, this was the best Brigg Town performance I have seen for some time and there are certainly reasons for their long suffering fans to be more optimistic about the season ahead than there have been for a while.
Brigg like to get the ball forward quickly to Paul Grimes, but on tonight's evidence that is no bad thing, as the Zebras player manager proved to be a thorn in Hallam's side all night on the occasion of his 250th outing for the home side. 'Chaz' Fisher also caught the eye in the right back berth for Brigg and his input was pivotal to their attacking intentions as he offered a good supply line of balls into Hallam's final third from out on the right touchline.
Jack Hargreaves, James Reed and Jed Phillips forced the issue early on for the visitors, with Brigg having to concede a corner to clear the danger. Reed picked out Phillips with the resulting kick but his looping header was saved by Dale Coy.
Lewis Dennison came close to opening the scoring, but his ambitious shot from thirty yards out flew wide of the right hand post.
Back at the other end, Dale Coy kept the ball out as he went one against one with Hargreaves and repelled the Hallam play maker at the second (or possibly third) attempt.
Grimes ventured forward down the right and crossed to Harry Speck, who headed wide under pressure from Tom Roebuck.
Wes Hill picked out Currie on the edge of Brigg's area and the Hallam striker went down under a nudge in the back from Scott Hellewell.
But Brigg cleared the ball from Reed's free kick and moved play quickly from box to box, with Fisher threading a measured pass into the path of Paul Grimes, who charged forward before drilling a low shot under Darwent who was racing from his line to narrow the angle and limit Grimes' options, from ten yards out.
The visitors went looking for an equaliser from the restart and were inches away when Currie planted a shot just wide of the left hand post.
Currie was back in the thick of things moments later, in his own goal area when he headed away Grimes free kick and ran forward with the ball, but Nathan Peat got his foot in and rolled a sideways pass to Hellewell, who wasn't far away with a thumping shot.
HT: Brigg Town 1 v Hallam 0
The second half was just two minutes old, when the ball fell kindly for Currie just inside the Brigg area and he toe poked the ball up into the air, where it dropped over Coy and bounced into the goal to put the visitors on level terms.
Given how the game had ebbed and flowed from end to end, a draw would've been a fair result on the balance of things, but it made for great entertainment that both sides were still fully committed to chasing all three points as the sun went down, offering a vast array of rainbows and pastel shaded skies (I
really
wish I had a decent camera sometimes, it's Xmas soon, getting saving up mein wonderful and generous family) and darkness fell, along with a steady flow of precipitation that was heading inland from the east coast).
The visitors were only on level terms for eight minutes, because following a sustained spell of pressure from the Zebras, 'that man' Fisher edged his way forward again, deep into the Hallam penalty box and his thumping cross/shot from the byline only needed a touch and Lewis Dennison arrived right on time to dispatched the ball into the back of the net from close range.
Both teams continued to slug it out and the tempo of the game didn't let up for a moment, while the referee, who'd handled the game well thus far, seemingly missed a few bits and pieces that were going on, or turning a blind eye in a bid to keep the game ticking over..
Matt Ord, on as a second half substitute for Hallam was offering them plenty of options down the left flank from the moment he came on and when he played Hill through on the overlap ten yards from Brigg's goal, he looked odds on to score, but as the visitors full back beat Coy with a rasping angled shot, the ball glanced the top of the crossbar. and Brigg could breathe a sigh of relief.
They drew an even deeper breath with just ten minutes remaining, when the ball broke forward for Hallam from a scramble of players near the halfway line and Ord surged forward past Fisher, who had no option but to commit what us old timers still fondly remember as being called a 'professional foul' to prevent what looked like a certain goal scoring opportunity.
The referee bought the game to a halt, which everybody present assumed was to award what was a blatant penalty, but his immediate attention was drawn towards an injured Brigg player, Finn Kelly, who had gone down in the scrum that had preceded the goalmouth incident and stayed down. Having ascertained that the player was OK, the official, Mr Leneghan, ran to Brigg's penalty area to deal with the aftermath of Fisher's trip... and awarded a drop ball!
Hallam were, understandably incredulous.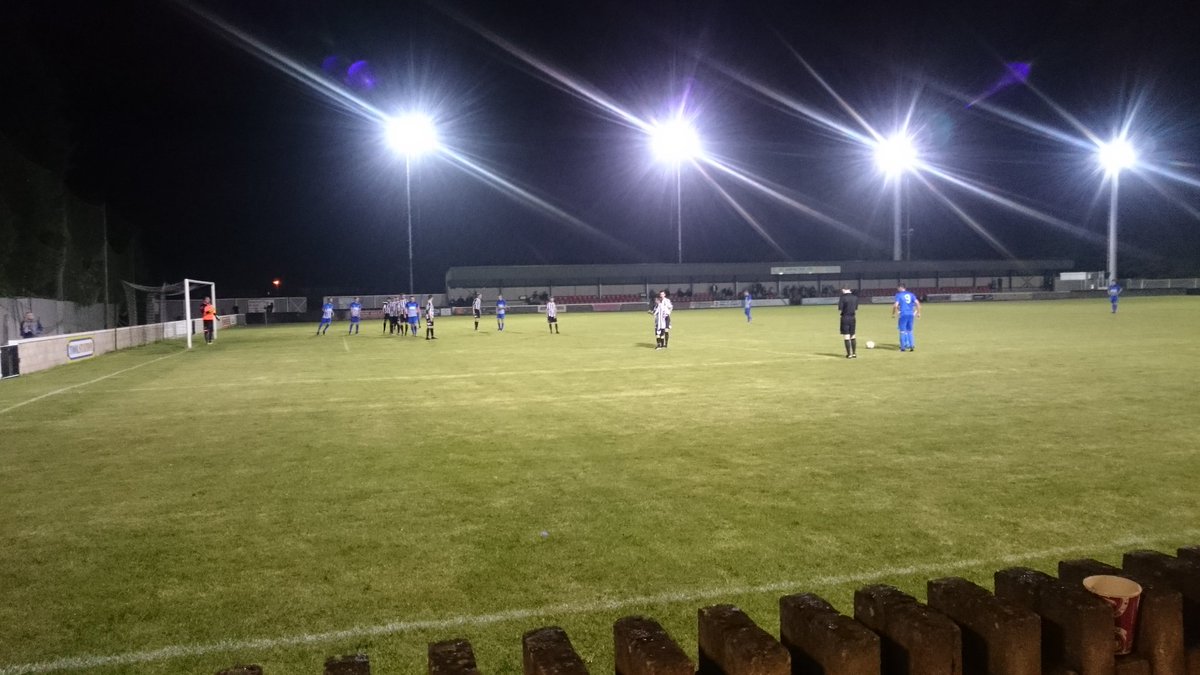 My reading of the situation, is that as Fisher clipped Ord, both the referee and his assistants might have been momentarily distracted by Kelly's demeanor and missed the trip completely.
Either way, as soon as somebody shouted out 'head injury', play should have stopped immediately as a matter of course, so that the Brigg number 12 could receive treatment ASAP.
If the officials didn't see the trip, then they couldn't award a spot kick and the 'bounce up' was their only option. But the resulting confusion and emotional responses stemmed from the game not being stopped until moments after Fisher had a kick at Ord... and that must go down as a refereeing error, even though it was a heat of the moment genuine mistake, when the welfare of a player was potentially at stake. I wouldn't want to be a referee!
From a neutral perspective, you can sympathise with both team's point of view at this juncture, because if Kelly's injury had been more serious, then time was of the essence, but Ord was definitely poleaxed, whether the referee saw it or not and the game was stopped after the offence was committed, albeit only a brief matter of moments after.
Either way, Hallam almost equalised when Currie dipped a free kick agonisingly over the crossbar from out wide on the left a minute or so later.
But in spite of a few determined efforts to force their way forward and salvage a point, Brigg held on. And though Fisher had quite obviously got away with a blatant foul, that could have had serious repercussions for him given that he was the last man and Ord only had Coy to beat, nobody wants to see injured players going untreated.
But if the referee had seen the trip while he was also checking out Kelly's situation, then the drop ball was a poor decision. However, only the officials will know what they actually saw; but if I was in Hallam's camp I would have been bitterly disappointed not to have been awarded a penalty, but if I was on board with Brigg, I would've expected the game to have been stopped the moment it became apparent that Kelly was hurt.
Perhaps I'll get accused of getting splinters in my arse from sitting on the fence, but, in common with the match officials, I can only pass judgement on what I actually saw with my own eyes.
FT: Brigg Town 2 v Hallam 1
A draw would probably have been a fair result all told, but Brigg took their chances well and though you would have to say that the visitors were unlucky to leave empty handed, football isn't always fair.