Tuesday 28th February 2017
Evo-Stik Northern Premier League, Premier Division
at the SW Jackson Utilities Stadium,
Westfield Lane, South Elmsall
Frickley Athletic
(1) 1 Joe Pugh 43
Matlock Town
(0) 0
Admission £10 Programme £2
Attendance 235
Frickley Athletic:
Seb Malkowski, Ross Barrows, Jack Waters, Bailey Gooda, Reece Fielding, Nathan Valentine, Luke Mangham, Sam Akeroyd, Joe Pugh, Noel Burdett, Tyler Williams (Waide Fairhurst 90)
Unused subs - Julian Lawrence, Luke Hogg, Lee Morris, Josh Diggles
Matlock Town:
Phil Barnes, Liam Marsden, Jake Green (Marc Newsham 81), Joe Doyle-Charles (Andy Wright 65), Adam Yates, Dwayne Wiley, Niall McManus (Paul Ennis 65), Michael Williamsd, Curtis Morrison Marcus Dinanga, Ted Cribley
Unused subs -Jamie Yates, Callum Lloyd
Lee Morris, the Frickley manager, took over the reigns earlier this season, after Karl Rose stepped down, after the team hadn't picked up any points from their opening seven matches.
Having led the Blues to their highest league finish since Joe Gormley was a lad, Rose found that his playing squad became targets for more affluent and glamorous clubs, and against the backdrop of the team he'd assembled breaking up and partaking in an exodus away from South Elmsall, Karl was unable to recreate last season's form and did the honourable thing, falling on his sword and resigning his position.
A decision that he took sooner rather than later, so that the club would have a chance to rebuild and recover over the remaining eight months of the 2016-17 term.
I thought Karl Rose did an excellent job at Westfield Lane, where he exceeded all expectations... and he is a nice guy too. In my opinion it was a sad day for Frickley Athletic and local football in general when he moved on. But football can be a savage game that will chew anyone and everyone up and spit them out again. Usually when you're least expecting it.
But, although Rose was a popular character and his achievements last year always meant that he would be a hard act to follow, I am perplexed to hear the opinions those who are seemingly using the highs of last season to put a downer on the current efforts of Lee Morris and James Kay.
Turning things round was never going to be easy (or pretty) after such an auspicious start.
Using tonight's game as a case in point, anybody who thinks their team selection and tactics against the promotion chasing Gladiators 100% correct, needs to give their head a good shake.
Possibly there are those among the Blues faithful who feel that they are entitled to a sustained spell of (relative) success, after being spoiled by unexpectedly reaching the giddy (nose bleed territory) heights of seventh last season, whose expectations outweigh the reality of the situation, inasmuch as, if last season's players hadn't scarpered, then the foundations were in place to make a challenge to become one of the clubs who are regularly challenging at the upper end of the table, rather than perpetually struggling to stay out of the drop zone as they have been doing for far too many years.
But Frickley hemorrhaged several pivotal players, and rather than having a springboard to launch another season of progression off of, both Rose and subsequently, the new management duo, found themselves dealing with a make do and mend scenario, from a hampered and handicapped starting position.
A quick glance at the lower reaches of the Northern Premier League
table
, suggests to me that Morris and Kay actually deserve a lot of credit for rescuing a sinking ship and navigating it towards the safety of calmer waters.
But, wherever you go in the world, you will always find a top heavy quota of Private Frazer and Corporal Jones type characters, who can only see the doom, gloom and panic of each and every situation.
Momentarily heading off on a tangent, can I just put it on record, that the 2016 British war comedy film, based on the BBC television sitcom Dad's Army, was awful; a complete bastardisation of all that the many loyal devotees of the show, including myself, hold dear.
The Evening Standard gave this travesty of a film one out of five, personally I found their rating to be overly generous; I gave it twenty five minutes and walked out of the Savoy Cinema in Worksop in absolute disgust.
It was great to catch up with so many of the mavericks, mainstays and characters who enrich the rich tapestry of non league football at Westfield Lane tonight. The photographers, bloggers, hoppers, bohemian eccentrics, warehouse rave survivors and duckers and divers were certainly out in force tonight.
To some, who I shall refer to in an intentionally derogatory manner as the 'uninitiated', the semi pro and grassroots game is merely a cheaper and inferior take on the monied version that people pay exorbitant subscription fees to watch on their tennis court sized plasma screen televisions.
But to the the hordes of unselfconscious followers of the 'non league' subculture, i.e. an underground nether world that exists just below the surface of accepted convention, but only in the minds eye of those with enough nous and perception to want that little bit more out of their football watching experience, this is where the heart, soul, pulse and living breath of the game is.
If your broad minded curiosity and search for the holy grail of the game led you here, well done, welcome and charmed to meet you.
Chances are, you might have given up on finding the true meaning of football as a metaphor for life many moons ago, so it found you instead.
However you got here, you'll know when you've arrived and be grateful that you did. I am.
But, if you're still missing the point, do not adjust your TV screen, or your satellite dish, just carry on along the road a little way, and there is bound to be a Sports Direct nearby, where you can spend £60 on a bri-nylon shirt that will mark you out as a disciple of a completely different sort of football.
To paraphrase and ever so slightly amend a quote by the late, great John Peel: "Apparently there are some people who out there who don't love non league football, I spurn them with my toe"
Might I add, that the SW Jackson Utilities Stadium does seem to have a special kind of aura that attracts so many like minded seekers of the truth.
Such as the keepers of the highly enjoyable
Hip Hopping Yorkshire
football blog, pictured here (below) filling in with the match reporting and cameraman duties at tonight's game, who were introduced to me before kick off by the Blues colourful resident press live wire Michael Johnson, an individual who I would have married, if I had been born a woman, or if he had.
For the record, each to their own, but I'd never personally get involved in same sex civil matrimonial partnership. Your loss Mr Johnson ;-)
Judging by the content of the Frickley Athletic fans forum, not everybody always approves of his writing style, off the cuff narrative and opinions, but I really hope that doesn't discourage him.
The world doesn't want any more tedious identikit match reports by numbers analysis, but it needs a more spontaneity, humour, flair and an injection of unhinged weirdness from time to time.
The home side started tonight's game with a spring in their step, but once Matlock got hold of the game, as the first half went on, they really must've been wondering how on earth they could have been a goal behind, when the teams left the field of play at half time.
After the break, the Blues were more open up and looked confident as they pushed forward, looking to consolidate their interval lead.
Non League Yorkshire, a website collated by James Grayson, is holding a poll that expires at the weekend, to select the non league player of the month in the county. Although Steve Hopewell of Maltby Main is obviously the odds on favourite to win this accolade. Frickley's Luke Mangham showed tonight why he is also among the contenders, as he probed forward in an attempt to open the visitors defence numerous times. You can add your vote to the poll here:
Non League Yorkshire
. Hopewell is the fifth choice on the voting list, but don't let me sway your choice ;-)
Treating my better half to yet another night out (I spoil her rotten some times) cuddled up on the back row, on seats that began life at the Olympic Stadium no less, we had a panoramic view of a very entertaining game. Although the floodlight stanchion slightly obscured our view when Matlock's Niall McManus appeared to be tripped inside the Frickley area. But the referee Luke Watson waved play on when he ought to have stopped the game, either to award a penalty or smack McManus' wrists for going to ground like a dying swan and attempting to influence the officials decision with a most convincing example of assimilation that I've ever seen.
In a nutshell, the home side rode their luck on this occasion, in my almost impartial opinion. And if I was Matlock Town supporter, I think that I would have justifiably felt aggrieved over this particular decision.
Gladiators are you ready!?
"Wolf! Wolf! Wolf!"
I lost count of how many times the Gladiators went close in the first half, when a combination of profligate finishing, Seb Malkowski's agility in goal for Frickley and some solid defending by the home side, in particular a very mature and convincing performance by the Reece Fielding, the Doncaster Rovers U18 player, who is turning out for the Blues on a work experience arrangement and was paying close attention to Marcus Dinanga, who had obviously been earmarked as Matlock's main threat and would probably have done better with several of the gilt edged chances the visitors created, had he been afforded the space to get onto the ball in the final third.
Curtis Morrison, Ted Cribley and Adam Yates all went close for the Derbyshire side, with the latter seeing his effort cleared off the line by Ross Barrows, who I'd single out tonight as the man of the match, which was thoroughly warranted by his effectiveness all over the field of play and his vital input both in attack and defence for Frickley.
Both Jake Green and Dwayne Wiley couldn't keep good chances that fell to them on target and Michael Williams was thwarted by 'the Pole in goal', who did well to keep out his free kick.
The world famous, specially commissioned, Frickley
Athletic, centenary celebration 'no parking' cone.
Mangham, Nathan Valentine and Noel Burdett all had opportunities to break the deadlock for Lee Morris' side in a first half that had been pretty much dominated by Craig Hopkins and Glenn Kirkwood's promotion chasing Matlock team.
If Frickley had held on at 0-0 until the break and then upped their work rate, attack wise, in the second half, there was still a chance that they could take something out of a game that Matlock really ought to have been winning comfortably by now.
But as the clocked ticked down towards the end of forty five minutes, Joe Pugh fired a friendly warning shot across the visitors bows, that the vastly experienced Phil Barnes did really well to hold onto.
Two minutes before the break, Matlock got caught right on the chin with a harsh, but well planted, reality slap, when the ever lively Burrows broke free through the right channel and turned the ball across the face of Barnes goal, where it sat up slightly off of a defender on the line's outstretched foot and into the path of Pugh at the back post, who made no mistake from almost twelve inches out.
HT: The Blues 1 v The Gladiators 0
A score line that was in no way indicative a reflection of the balance of play in the first half, but if you don't take your chances against a side with Frickley's battling mindset and you let your guard drop, even for a moment, then you are going to get clobbered.
Crash, bang, wallop!
And if further proof that the Gladiators should've struck while the iron was hot was needed, the Blues came out for the second half and approached the game in a far more gung-ho and cavalier fashion, particularly down the left flank where Tyler Williams was exerting his influence on the game and scrapping for every ball.
It was no mean feat for Williams to be making such a good impression out wide on the left because he was in direct opposition to Matlock's versatile Liam Marsden, who can play at right back, wing back and in central defence, having started out with the Gladiators junior team, Marsden progressed well and moved on to join the Mansfield Town youth set up, where he picked up the club's 'Jack Retter Trophy' in 2013 as the club's young player of the year and was actually chosen as the man of the match on his first team debut. Alas, he only featured in 14 games for the League 2 side, as well as playing on loan at Guiseley, Brackley Town and Mickleover Sports on loan, before he was released by the Stags at the end of last season. Although, at twenty two years of age, he is still very much on the radar of several professional clubs scouting networks. However, if any of them were checking him out tonight, they would probably have been on the phone enthusing about Williams instead.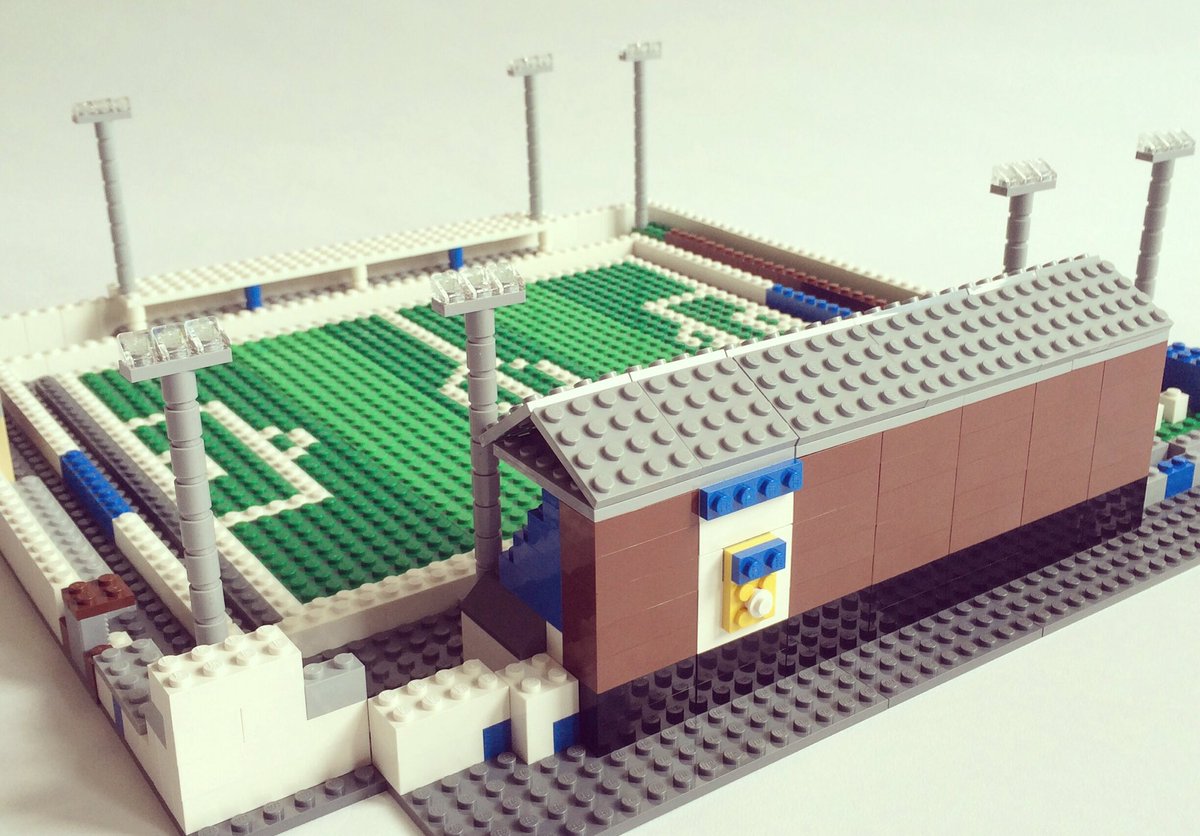 FAFC in Lego.
From being in the ascendancy, possession and percentages wise if 'nowt else, the visitors were now having to field a number of Frickley attacks as the home side came desperately close to adding to their one goal advantage. Pugh shot fractionally wide of the post, while Mangham was denied by Barnes, but Matlock had a lucky escape, when Pugh delivered an inch perfect cross into their six yard box, that seemingly only needed a touch, but Williams somehow managed to skim the ball past the wrong side of the post, having made a well time run to meet the ball ahead of Barnes and his defence, In fact his effort was so narrowly wide that many of the Frickley faithful cheered because it looked for all the world as if the industrious winger had claimed the goal that his performance had deserved.
Meanwhile play switched to the following end and Michael Williams shot which flashed wide and Dinanga headed the ball straight at Malkowski.
Paul Ennis, on as a second half substitute for Matlock, almost levelled things up, but Malkowski showed why he is such a crowd favourite at Westfield Lane, by twisting and superbly turning the ball over the crossbar
Williams (the Frickley one) then saw his goalbound strike turned onto the upright by Barnes, while Burdett fired over after Pugh had broken into the left hand side of the penalty area and squared the ball to him.
The final attack of the game saw Valentine encroach into Matlock territory from out on the left and try a snapshot towards the near post, while everyone was anticipating a cross to Burdett and Waide Fairhurst (a ninetieth minute replacement for Tyler Williams) but Barnes was equal to the audacious and improvised finished.
And that was that. Surely the doubters and doomsayers will now cut Morris and Kay some slack, won't they!?
FT: Frickley Athletic 1 v Matlock Town 0
Frickley face Hednesford Town at home on Saturday, then travel up to the north east to take on Blyth Spartans on Tuesday. While Matlock are away at Stourbridge at the weekend, before entertaining Coalville Town at Causeway Lane on Tuesday.